Medvedchuk and Kozak suspected of high treason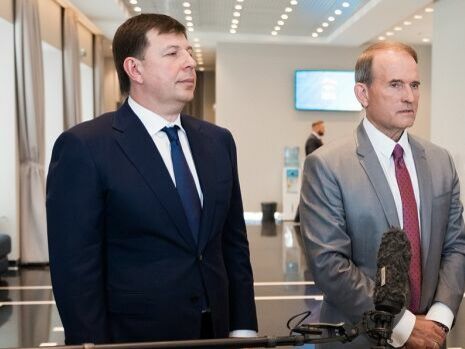 Earlier, sanctions against Kozak and Medvedchuk were implied
Photo: zagittya.com.ua
Members of Parliament from Opposition Platform — For Life Viktor Medvedchuk and Taras Kozak were informed that they are suspected of high treason. It was announced by Iryna Venediktova in her Facebook.
"I inform the society that today I signed the reports of suspicion for two people's deputies of Ukrainian Parliament – M. and K. Together with fellow law enforcement officials, we had conducted many investigation activities, had gotten many expert opinions, and during the pre-trial investigation had interrogated high value witnesses. It was an effective work; we did all we could to keep information in vacuum," – reads the statement.
The mentioned deputies are not only suspected of treason but also of attempts to steal national resources in Ukrainian Crimea.
"After searches have been made the whereabouts of people's deputy M. remains unknown. That is why SBU takes certain measures to find him and serve him application for pre-trial detention," – remarked the prosecutor.
Venediktova didn't specify names but Interfax-Ukraine reported that persons in question were Kozak and Medvedchuk.
"Conclusions. A person should not consider Crimea a part of a different state. A person should not participate in transferring valuable documentation on Ukrainian natural resources of estimated value about 38 billion hryvnias. A person should not accept rights on Ukrainian property lawfully owned by citizens of Ukraine. A person should not reveal an information that contains state secret," – Venedictova summed up.