Oleh Ataiants' installation against Putin's gas blackmail hits the target – Didkovskyi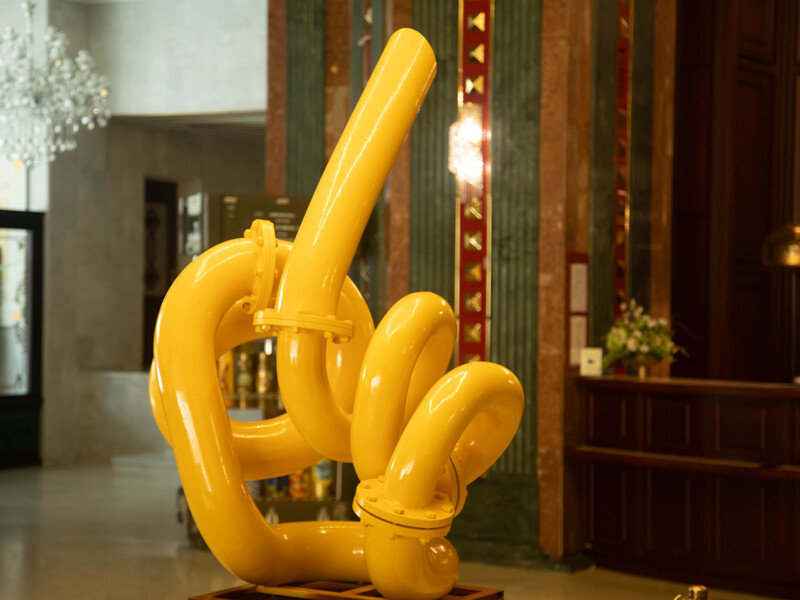 The work was made by an artist in Dnipro from a real gas pipe
Photo by the press service of the organizers
The installation by Ukrainian sculptor Oleh Ataiants Fuck Gas Weapon, which was presented at the National Hotel in Kyiv, symbolizes the protest against Russian gas blackmail. Blogger and media expert Serhii Didkovskyi writes about this on his Facebook page.
He says that the work has been made by an artist in Dnipro from a real gas pipe and expresses the idea of blowing up the Nord Stream gas pipeline. According to Serhii Didkovskyi, Oleh Ataiants hit the target in his artistic plan, because the USSR, and later Russia, constantly used energy resources as a weapon.
Didkovskyi says that the USSR/Russia started three wars – in Afghanistan (1979), Georgia (2008), Ukraine (in 2014 and 2022) – at the peak of the increase in energy prices. One of the reasons for the collapse of the Soviet system was the decrease in world prices for oil and gas. That is, their economy and policy are fully dependent on energy resources. Their htonic hatred depends on the availability of money, and money is energy resources. Here Ataiants in his artistic expression hit the target.
He notes that after the sculpture of Ataiants is shown in Kyiv, it will be taken to the exhibition in the USA and sold there at auction, and the sculptor plans to transfer the proceeds to the needs of Ukraine.
According to the co-organizer of the exhibition Daria Shikhenko, it was very important for the author to incorporate the Ukrainian context in his work. Her comment was published by the YouTube channel Kyiv Novyny.
Video: Kyiv Novyny / YouTube
Oleh Ataiants is a Ukrainian artist, patron and businessman. He is the founder of the Ataiantz Gallery. Since 2017, he has founded a scholarship to support young talented Ukrainian artists.
The press service of the exhibition notes that the creative heritage of the artist contains sculptures made of precious metals – gold and bronze. Their peculiarity the unusual interpretation of familiar objects and phenomena. Also, Ataiants is known for implementing the project Made in Chernobyl, which allows to look at the Chernobyl tragedy from a different angle.