Traffic Jams From Trucks Transporting Food To Crimea Are Already Kilometer-long – Head of Kherson Regional Police Department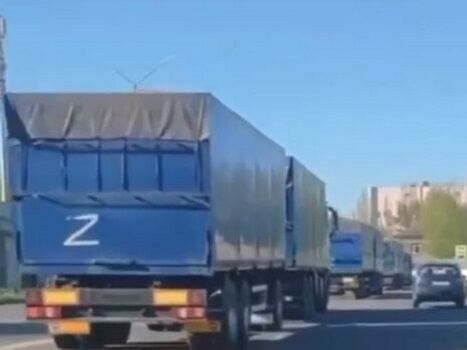 The occupiers export products from the Kherson region to the territory of the Crimean peninsula, Laguta noted (in the photo - grain carriers of the occupiers in Melitopol)


Screenshot by Ksenia Covers / YouTube
Russian occupiers continue to export stolen grain from the Kherson region, a lot of trucks have accumulated on the administrative border with the Autonomous Republic of Crimea.
This was announced on May 27 at a briefing broadcast on the YouTube channel Ukrinform TV, said the head of the Kherson Regional Military Administration (OVA) Gennady Laguta.
He said that Russian invaders import food products from the territory of the temporarily occupied Crimea, and export products from the Kherson region to the peninsula.
"The traffic jams from trucks that bring wheat and vegetables there are already kilometer-long. At the Chongar checkpoint," Laguta said.
At the same time, he did not confirm the information about the attempts of the invaders to distribute Russian passports to the population in the temporarily occupied territories of the Kherson region.
Since the beginning of the full-scale invasion of Ukraine, the Russian Federation has already stolen about 400,000 tons of grain from the temporarily occupied regions of Zaporozhye, Kherson, Donetsk and Luhansk regions, the Verkhovna Rada Committee on Economic Development reported on May 18.
Russia is trying to export and sell stolen stocks of wheat from the temporarily occupied territories of Kharkov, Kherson and Zaporozhye regions. On May 10, the Main Intelligence Directorate of the Ministry of Defense of Ukraine informed that a significant part of the grain stolen from Ukraine was on dry cargo ships under the Russian flag in the Mediterranean Sea. "The most likely country of destination for the cargo is Syria. From there, grain can be smuggled to other countries in the Middle East," the report says.
Ukrainian Foreign Minister Dmytro Kuleba urged foreign countries not to buy stolen Ukrainian grain. "Don't become complicit in Russian crimes. Stealing has never brought anyone good luck," he tweeted on May 24.
According to the Ministry of Agrarian Policy, all basic needs of Ukraine in agricultural products are closed for several years, Ukraine is now looking for opportunities to export products intended for export abroad in the conditions of Russia blocking ports.