"Why Do You Depend On Russia, And Not Vice Versa?" Zelensky Spoke At A Meeting Of The European Council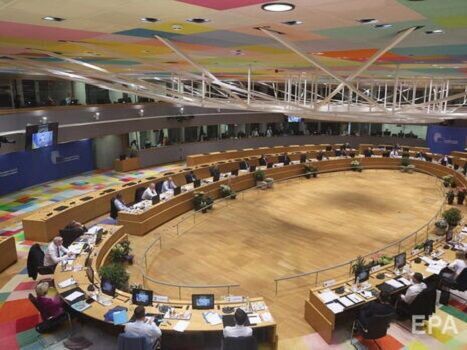 Zelensky addressed the participants of the meeting via video link
Photo by EPA
On May 30, President of Ukraine Volodymyr Zelensky spoke via video link at a meeting of the European Council, a video with his appeal to European politicians was published on YouTube by the Office of the President.
The President spoke about unity in the European Union and the sixth package of sanctions against Russia.
"Russia wants to see at such meetings not an integral European Council, which we now see, and not a single European Union, but 27 separate states, 27 fragments that cannot be put together. This is their desire. Such a policy of the aggressor is consistent, and in it there is no delay," Zelensky said.
He stressed that Russia does not need to hold summits and look for compromises, like the EU, to make decisions.
"Now we see at the same time how the Russian offensive in the Donbas is destroying our cities, destroying the communities of Ukraine, and how European unity, the desired European unity, can be shaken. On April 8, on the 44th day of this war, the fifth EU sanctions package was introduced. 52 days have passed since then. What happened during this period?" the president continued.
He said that the number of children who died as a result of the Russian aggression in Ukraine increased from 169 to 243, and the number of rockets fired by the invaders across the country increased from 1.6 thousand to almost 2.5 thousand.
This is the "progress" of the Russian aggression, Zelensky stressed.
"Of course, I want you to understand me: I am not blaming any of you. The blame for everything that happens is only on the Russian state. But I am sure that it is obvious to everyone, each of you, that there must be progress in sanctions for this aggression "And this is very necessary for us. And it will help us a lot! Such progress that Russia will begin to seek peace. And only this can be our common demand. Peace. There can be no compromises at the expense of our territorial integrity, our sovereignty!" the president added.
He expressed gratitude to those who are promoting the sanctions packages and trying to make them more effective.
"However, unfortunately, for some reason it doesn't exist yet. And why do you depend on Russia, on its pressure, and not vice versa? Russia should depend on you. Why can Russia still earn almost €1 billion a day by selling energy resources? Why are the banks of a terrorist state still working with Europe and the global financial system?Serious questions.And why are Russian propaganda channels still active in the EU?This is an information tool of the Russian Federation. Why are Russian civil servants who support the war and judges who openly assist repression still not under sanctions? Each of these important questions is not just about the sanctions packages or the war in Ukraine. All this is about us. All this is about Europe itself," Zelensky concluded.
On May 4, European Commission President Ursula von der Leyen announced the sixth package of sanctions against Russia. In particular, according to her, it should include the phase-out of the EU from Russian oil.
The last country to block the introduction of an oil embargo against the Russian Federation by the EU is Hungary. The Wall Street Journal wrote that the EU intends to give a 20-month delay to Hungary. Politico noted that the European Union is considering compensation for Hungary for supporting the oil embargo against Russia.
On May 9, von der Leyen held talks with Hungarian Prime Minister Viktor Orban. There is progress, she said, but more work is needed. On May 12, Foreign Minister Péter Szijjártó said that Hungary needs to invest hundreds of millions of euros in infrastructure modernization in order to abandon Russian oil.
The EU summit started today in Brussels. Von der Leyen said she does not expect a sixth package of sanctions to be agreed at this summit. According to her, all issues have been resolved, except for one - the supply of oil through the pipeline.